This week has been so harassing! We started this week prepping up for our Teaching Teen Sexuality Seminar to be held in the office. It was such a whirlwind sorts of planning... in short, it was all over the place. No direction, no anything. It's like everybody's doing the same things, involving themselves in everything! The worst part is, only Angie understands my predicament. Anyhoo... Wednesday was the highlight because that was the first day. Got there around 730, helped out in calligraphing names in the name tag, displayed items for sale and so on. Assisted in the merienda, went up and down the stairs to call for items still at the office. The venue of the seminar and the office was like about two-three blocks away. And so the running around, assisting went on for the whole day. I even ate standing up! So, it was like just two hours of sitting time in my 10-hour work for that day! I can just imagine all the skilled workers, salesladies and all people working standing UP had to endure... and made me give them so much respect after this ordeal.

After work, I had to go to St. Peter for our pictorial. While waiting for everyone, I sat down at the dining hall and talked to eric, unloading the burden I had on my shoulders... I told him I was really tired... and I can no longer comprehend who i am anymore... and since it was such a very harassing and tiring day, I was so down already that when I knew the shoot was cancelled, I didn't have the strength to text anyone, to call anyone or talk to anyone for that matter. No emotion came from that news. I think Bebs might have felt a bit off that I had no feelings in my texts... but it wasn't like I didn't want to be warm in my texts... I simply had no strength anymore.

Devoid of anything, I went home and went to sleep. I woke up (and realized I was going to be late so I didn't take my sweet time and hurry up I did)... but I didn't expect to fall down the stairs... TWICE!!! I wasn't even running... the floor wax was recently applied and the sandals I was wearing was new so slipped I did... I was so much in shock that I didn't feel the pain. I knew I was late so I rushed off. Hour after hour, I could feel the pain immersing. First, nangalay yung left arm ko, then it was part in my buttocks na naghit sa floor. By the end of the night, both arms was hurting like crazy and my mom poured omega to ease the pain. Before I slept, the outlet where I supposedly would plug my electric fan not (apparently, since I took off my contacts, I plugged in the speakers), sparkled and boom! Pumutok na! So I had to wrestle my way to unplug the outlet (which is at the back of the bed... hard to the capital H alisin). I dropped down the bed so exhausted, so tired, feeling the pain coming back and the OMEGA wearing off... I prayed that night that the next day be less eventful...

... And today, the pain moved up to half of my left body, where I think I put all of my body weight when I fell, my waist hurts even a twinge if I moved it in any angle, my arms still hurt, and my buttocks hurt too. It even hurts to sneeze! Nakaleave na naman ako and this time, I don't want to take this leave at all.

I feel so emotionless after all this events. What's more, there's so many deadlines to finish. I hope I can do everything even if I'm broken and disadvantaged.

With all that's happened, I'm not even sure what to put in the Title area of this blog!!!
|
How ironic.
Yesterday was the Gospel about Mary and Martha. One was doing all the leg work, one was working to save her soul.
This story has been read so many times, at so many occasions. But yesterday, ironically, I was thinking about this Gospel and how I am actually living this situation in my life right now.
The thing about our faith is that we see things in the Bible that really coincides with our lives. And I know God spoke to me through this passage.
I've been working for the Souvenir Program of our Parish. I was also doing so much work the past few weeks for my work (overtime included). I also am prioritizing my family, which was not on my list before the Mindoro event happened. And with all these things going around me, I felt I was so "Martha" that I forgot to be "Mary".
And then, emptiness creeps in. I remember the story about being busy and I can't help but think... am I B-eing U-nder S-atan's Y-oke already without me knowing it?
And also, there are some feelings of being taken for granted. Sometimes I feel so sad no one even asks how I am anymore. It's all about them and how they are. But then, is this a fair question to ask because do I ask others how they are? Ironies of life. The Lord said, "Do unto others what you want them to do unto you." And yet, even when you do, there are some people who still don't ask you how you are. And i know I've got to accept that. Not many people remember. But like any other person, I am also vulnerable. I also hurt. I cry. And I am human to feel all these things.
Maybe it's Spiritual warfare. Another irony. When you believe in Him, more warfare will come into your lives. Call us Christians crazy, but we did know we were going to experience this when we accepted Him as our Savior. Just thinking, this definitely adds up irony in my cart.
Maybe it's a feeling of being burdened with all that is happening to me. I remember in the "purpose-driven life" that sometimes you can't feel God's presence because there has to be a time where you thirst for him. And I also remember:
Cast your burdens upon Me, all you who are heavily laden,
Come to Me all of you who are tired of carrying heavy loads.
For the yoke I will give you is easy and My burden is light,
Come to Me and I will give you rest.
Lord, please deliver me from this and make me inspired again to serve you in Your way.
|
It was definitely, absolutely a thrill of a lifetime!
Hearing Guy Sebastian live was a touch of paradise enough… but the possibility to meet him, shake his hand, and be in the same room with him is almost heaven!
I didn't even know he was coming. On his first day of visit, July 1, my friends and I were at Haiku in Greenbelt celebrating Sally's birthday. We were chatting away about stuff, and of course, inevitably, we chanced upon the topic of American Idol. We were talkin' and talkin' about it… until I mentioned how I absolutely adored Guy… and Bryan got all excited and told me that Vangie won tickets to his concert at Hard Rock Café!!! I couldn't even remember what followed next… all I remember was I was shrieking and calling Vangie on the phone and asking for DETAILS. Turns out she asked Bryan already. But Bryan was so chivalrous (or maybe it was my reaction that did it) because he told me he'd give way for me to watch his concert since I was a fan! Vangie had other means, though and since Sir Jun had friends, I was assured that I can enter Hard Rock Café and finally get to hear him sing live! It was a looong two days waiting for Saturday to happen!
It was actually a tough day for me since I was up early to do something for Ge, and rushed to the office at Katipunan for a meeting then at North Edsa to meet up with Ge and to friend's house in Congressional for our despidida for Ge. I left around 8 something to travel all the way to Makati for Guy, but it was worth it!
Got to Hard Rock, donned a hipsie so I can blend in the crowd, hang out with Vange til Guy performs. I was so delirously happy the whole time. I can't believe I'm actually sitting at Hard Rock Café and going to hear him perform live in action!!! And so, the wait was over and he sang amazing songs… I was so thrilled he sang "Angels brought me here" and "The Way You Look Tonight"… his voice is truly amazing. And he's so nice!!! In the middle of the show, there was one fan who was motioning him to come to his side. We all thought it was technical, but when he got there, he wanted to take a photo with Guy!!! Guy was overwhelmed but he was all sport because he smiled and posed with him.
Guy: Live!!!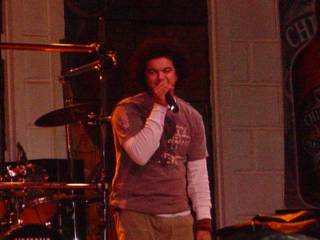 I didn't come prepared. All I wanted was to hear him perform. That's it. I was hoping for a signature if he's going to do an autograph session at Hard Rock. So when his final act was over, I clutched my ticket and a pen and hurried off to the side where he'll pass by. There were soooo many people with him and when he passed by me, I asked him, "Can I have your signature?" and he laughed and said, "I can't." motioning his head to his hands where it was being pulled by some security… at this point, I was already happy because he spoke to me! ;) He was whisked away to the second floor and I gave up chances on ever getting anything from this experience except to hear him live.
grabe the security!
And so I thought it'd be over. At least I got the chance to talk to him. But minutes later, Vangie was asked to go upstairs since she won by downloading a ring tune from Globe. I went with her… it was my chance! And so we went upstairs where lots of people were waiting, hoping to catch a glimpse of Guy. Even with the long line, we were the first to enter this maze of a hall to a room where he was staying until he leaves for his hotel. I was so giddy the whole time and so anxious. Ganito pala ang feeling ng isang fan! I kept mumbling "Vangie, I can't believe this" and shrieking in a tiny voice over Vange's luck! And so, together with representatives from Globe, a 7- and 9-year old kid, we were ushered into the room and I was like near him talaga!!!!!!! I was actually shaking already and so the cordial greetings were exchanged until I had the courage to ask for his signature. He signed it, then Vangie asked him to sign hers with her name. So of course, hindi rin ako papatalo. I also asked him to write my name, too! Unahan daw ba yung mga bata! ;) But I was so excited to be up close! After the praises, the chikahan, we took pictures
gaga over guy: vange and me
… and syempre, ayoko pa ring patalo, so I asked him if I could have a picture with him, too… and syempre… pwede! And viola, a picture of us together…
utlimate photo!!!
It was really a different kind of high… and I laugh at myself when I remember all these. I acted like a gawky teenager who didn't know better… but I was lost at those hazel eyes, the afro hair and the personality! He was really nice and it was so amazing meeting him in person!!! It was Guy Sebastian, for goodness sake!
Did I ever mention I had a great time with bryan, vange and joni during this exciting experience?. ;)
joni and me conniving over bryan and vange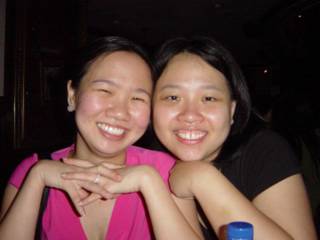 Oh well, it's been a week since this encounter but I still can't help smiling. After all, I was so overhelmed by him and I definitely will remember my meeting Guy Sebastian up close and a bit personal!
|
Okay. It's not me. I'm 26 already and I am not pregnant. Baka may magcomment uli sa title ko. ;)

----

Last night, I had the chance to become a real Pro-lifer in the sense that I helped stop a counselee from abortion. I was standing up when I received the call. We were about to leave the office then and out of courtesy, I picked up the phone. But after a few seconds on the line, I had to sit down. It was the first time I ever received a call that was about pregnancy and abortion. She didn't know if she was pregnant, but it was a sad story because once she suspected this, she told her boyfriend who decided to leave her at that instant. She was still studying and she was working at night. She told me later on that she was pressured to have sex with her boyfriend of two years. And she didn't want the baby. Good thing I was praying all the time and the SPirit moved me to be level-headed. I told her to confirm this pregnancy first. We have free pregnancy test at the office and since she lives in Cubao, I asked her to come to the office and asked her not to think about the other stuff yet. She told me she was coming around 9. I was praying for her the whole night. I thought she wouldn't come anymore because it was already 12. But thank God because she came at half past twelve.

She underwent the pregnancy test and sure enough, there were two pink lines. Ate Ellen then helped me to counsel her by asking her fears, by giving her information on her baby, what it looked like now at three months, what happens to abortion victims and her options. There were maternity homes that can accept her. She can have her baby adopted if she's not ready to take care of the baby. And Ate Ellen told her about a true counselee story... She was 13 years old and she was pregnant! But she bravely carried on her pregnancy. Now she had her baby and she's even keeping it.

My counselee wasn't a talkative person, and she really looked very fragile. She was a God-fearing person that's why she knows abortion's not the right thing to do yet she wants to contemplate it because she's not ready to have a baby yet. She was confused. But at the end of it all, she was happy of the option that she can "hide" and give birth, then think later of what will happen to her baby. She's to tell her family tonight and update us tomorrow if she will stay with her family or stay in a shelter. I'm praying for her. I hope she doesn't resort to the other side. The devil is still working and I hope that God will guide her to the right decision in keeping her baby.

True, at 18, nobody should be thinking about this dilemma. And it's hard to think what will happen to her in the near future. However, many people has braved over this dilemma before and at the end, they have always treated their baby as a gift, and they all braved throught the challenges. I hope she will too.
|
i'm doing a separate entry for guy since i haven't received his photo yet. all i can say muna is: thanks vangie! it was a different kind of high!

::::.......~~~~****~~~~.......::::

how can someone you love suddenly become someone you don't know anymore? one day you wake up and you're greeted by a totally different person. how many times in life do we need to face this reality? then i realize... i change, too... we shouldn't expect things to stay the same forever. the tide sometimes is high or is low... and it changes because it has to... in the same way, with all that's happening in my life... i have to accept this fact in life because i want me to change... i want me to learn... i want me to mold into something beautiful in God's eyes... and i have the see the bigger picture even though it still hurts me a bit now...

::::.......~~~~****~~~~.......::::

i watched a pink film entitled "eating out" at sm manila with vange. the movie was rated "x" by mtrcb but because this was the 1st ever Pink Festival (itaas ang bandera ng mga bading!) they allowed three takes of this film... taray talaga! the festival even extended til july 12... and that's due to insistent public demand! tinalo si spidey! ;) hehehe so anyway, vange was kinda shocked, i guess... first time nya kc to watch a pink film... she was so curious kc to watch one... made me remember the first time i watched a pink film... it was with jeff and we were in this mini theatre at ayala... we were both pretty shocked when we got out of the cinema... as in no speaking... i remember then, dumidikit si jeff sa akin nun kc baka bigla may humugot sa kanya dun... killer pa man din ng bading yun. kc naman, we had no idea there would be a pink film din there... mini short films kasi sya pero daming pink short film. anyway, it was a pretty light film... funny and kinda makes you think about a gay's lifestyle... i have friends who are bading, some with oompah and some trying to have that oompah... and some who doesn't really care about these things... and they're really great people. thre's a lot of things i learned from them. i accept them for who they are... and even if im in Pro-life, i know i still would accept them... because Pro-life's stand is against homosexual acts and marriages and stuff... but we are called to love them pa rin... and to pray for them...

::::.......~~~~****~~~~.......::::

i'm yet again to face the reality that a very great friend is about to migrate to australia already. ge's my buddy since la salle days... i remember we hit it off agad... and that when i spilled orange juice on my shirt... she offered me her pink jacket... when i'm sad, she'll go with me to the chapel... when im weak, she'll be strong... when i'm really down, she'll pull me up with her funny stories and kindness... sweet no? and she's all that... does pretty sweet stuff to her friends. she's really an eccentric kind of friend... but we love her pretty much because her "eccentricity" makes us love her even more... we gave her a mini surprise despidida and grabe, naiiyak na ako thinking she'll be miles away and it would be a very long time before we see each other again... we'll meet again before she leaves but i don't think i can control my feelings by then...

::::.......~~~~****~~~~.......::::

made me think of friendships tuloy... and the one's im keeping company with... i sometimes feel a bit frustrated with the people around me... but i have to remember, we're all a work in progress... i just can't help feeling that i have great friends before... and now, am not so sure...

::::.......~~~~****~~~~.......::::

my sis and i are started to bond again and we watched spiderman 2 together at the podium. spiderman was really funny, ang daming scenes na nakakatawa... i learned so many things... about sacrifices, about life and love.
|
top 2 shannon & australian idol guy sebastian

love this guy! guy sebastian, that is... ang ganda ng boses!!! he can sing "crazy" ala beyoncé and sing ballads that move you within! and guess what? heard from bryan that vangie won tickets to his gig in hard rock for downloading a ring tune from Globe!!! Waaah!!!! she's trying to get extra tickets for me (or bryan's gonna give up his ticket for me - he offered! he never saw me so excited in my life) so by hook or by crook, we're going to hard rock café this saturday to watch his gig!!! am so excited!!!
|