I would change things if I could
I would change what I felt if I could
If only I could remain in the warmth I am used to.


I would let go if I could
I would forget if I could
If only I could go back to the way things were.


But life always takes a funny turn
And you end up in the least expected place
If only I could... I would.

|
marge and i saw each other the night before Iris and Edison's wedding... it was Abby's wedding at New World and i was so surprised to see her there with Abuy. She was one of the ghosts i overcame that night... and i'm really glad i think we might still have what we used to have before... real friendship. marge and i were like carrie and miranda in sex and the city before everything happened. when we need each other, we'll be there for each other. we always see each other on our birthdays and we knew we could trust each other.
so that night i was able to open up and let her know what i went through, and how she affected me. after the wedding, she texted me and reassured me of her friendship and how she wished i'll bounce back to my old self... because she said i inspire a lot of people, and that includes her. i really hope that we can pick up where we left off... i was actually so apprehensive of our friendship because of what happened in the past. but hopefully things will work out...

|
|
pictures from iris and edison's wedding ;)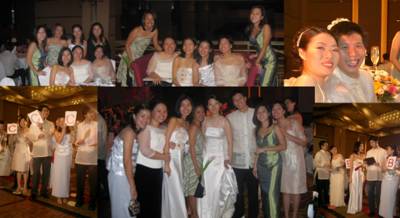 i love this couple! i helped in their day coordination and i'm glad that things went great. i was on my feet the whole day but i really was happy and i enjoyed every minute of it. i wouldn't trade this experience for anything... new world's service was also excellent... and i enjoyed talking to the people behind the scenes. after the program, i was able to really enjoy and hangout with my la salle barkada. char was great, too because she helped, accompanied me while i was having dinner and her plain ol' company just made my day. anthony how gave a surprisingly great Best Man Speech! some words i remember that made the speech really light: "iris is the man behind the relationship. edison, you're a disgrace to manhood." and something about love in iris and edison's eyes. everybody was saying that he didn't write it but he promised he did. His girlfriend, Pamy sang "Any Lucky Penny"... it was so romantic! i can't wait to see the rest of iris and edison's wedding photos. and i can't wait to enjoy talking to them about the wedding. it was really one that i enjoyed! after the wedding, i helped iris and edison bring the gifts to their house and i arranged the flowers in their apartment. i cleaned up, too, a little para mas comfy when they got home. edison was really sweet... he was so emotional even before the wedding! i asked him if he had any cold feet, but it was just the fear of messing up things. i also suggested that he give iris some flowers the day before the wedding... and when i asked what should i write, he said..."i love you. can't wait to spend the rest of my life with you." haay. ang sweet! i know iris appreciated it a lot! nakakatuwa rin because i also met iris' cousin na sobrang cute! my la salle barkada wants to hook him up with claire, sabi ko, "ay, parehas pala kami ng type!"... hahaha... pero super suplado yung guy... though we talked a little... isang tanong at isang sagot lang talk na daw... ;)
it really was a great wedding... and a great weekend. i know il gush over this for a while... but it was meaningful, it was happy and it was an experience i'll likely never to forget.
|
I found this apt for what I feel right now ;)
::....~~.~~....::
so many things have happened but the past weekend was really great. i'm not in a story telling mood so i'll just blog about it next time.
::....~~.~~....::
i wanted to post some pictures of jc, but he was sleeping so i couldn't take pictures pa. but he's getting bigger and he's one pound heavier... ;)
|
Everytime

by Britney Spears
Notice me
Take my hand
Why are we
Strangers when
Our love is strong?
Why carry on without me?

Everytime I try to fly
I fall without my wings
I feel so small
I guess I need you baby
And everytime I see you in my dreams
I see your face, it's haunting me
I guess I need you baby

I make believe
That you are here
It's the only way
I see clear
What have I done
You seem to move on easy

And everytime I try to fly
I fall without my wings
I feel so small
I guess I need you baby
And everytime I see you in my dreams
I see your face, it's haunting me
I guess I need you baby

I may have made it rain
Please forgive me
My weakness caused you pain
And this song is my sorry

Ohhhh

At night I pray
That soon your face
Will fade away

And everytime I try to fly
I fall without my wings
I feel so small
I guess I need you baby
And everytime I see you in my dreams
I see your face, it's haunting me
I guess I need you baby

After all...
After all...
|
Praise God JC's tube was removed na today. He's drinking 1 oz. milk now. If he doesn't throw that up, he's on his way to recovery!!! Praise God! Sana dire-diretso na recovery na. Thank you, Lord!
|
Today's the Feast of the Cross. It's actually the first time I heard this occasion. It turns out that today is the day that St. Helena, mother of Constantine found the wooden cross which hung Christ, the Savior of the World.


I heard this in the homily a while ago... (of course mejo revised na since hindi ko saulado ang lahat) and it was from a book that I didn't quite catch.


St. Francis of Assisi was restless and the monk asked him why. And St. Francis replied that he felt he didn't love Jesus enough. "Didn't you leave everything to follow him?" The monk asked St. Francis. He replied, "Not enough."
"Didn't you stood up at the Plaza and showed everyone how serious you are about leaving worldly desires and thoughts?" "No. Not enough."
And each question the monk asked, St. Francis would say, "No. Not enough. Never enough."


The point of this sharing was that St. Francis loved Jesus so much that he never was complacent of his love for Him. Everything that he did, he felt it was not enough. He knew that since Jesus was the love of his life, He could always do more. The priest told us to be careful of complacency and mediocrity. Because loving a person meant that you always want that person to be happy... not because you feel happy because the person is around.


It made me think about people i love... and have i ever felt that loving them was "not enough"?


I don't know. But for Jesus, I'd want to say that.


********


After reading Jaja's blog, I realized I'm happy that the group has bonded. Sana they learn more from Ate Rose. I hope this time, they'll appreciate her na and show her their appreciation. Sana din, marespeto nila si Ate Rose the way she deserves to be respected. She had done so much for us and for me. I realized now, I think I might have hurt Ate because of my actions, but in the end, I'm sure this will bear fruits. Sabi nga ni Jeff dati, habang andyan si Arlene, walang matutunan yung mga tao... I've tried to look past the hurts, the disrespect, the coldness, the indifference to the point that I forget myself and end up hurting myself over the least bit negative reaction because I cared so much, but it has gotten to a point where I know some things happen for a reason. And my going away is there... for a reason.
|
Baby JC today when Mommy Moi left the hospital. NGT was transferred in his mouth. He looks so distressed... mommy had blood transfusion but got better today so she went home na. this picture was when they visited JC before going home. Missing him already... still praying...

|
September 12, 2004, two days old Baby JC at the viewing room, yellow fluid at the right side is the effect of infection from his stomach due to his eating of his waste. also maybe because labor was too long... The bottle is attached on his nose down to the stomach! Waah! Poor baby!

|
|
mommy Moi, my sis in law and Baby JC, short for Jerrel Chadler. JC was born at 12:15am, September 10, 2004. mommy Moi was on labor 2 days!!!

|
|
Koko, Mike, Sheila, Tita, Ate Moi, Muy, Me and my Sis at the back during Moi's Baby Shower last August 15, 2004

|
It was a morning I wouldn't soon forget.
The ray of light in my bedroom woke me up and reminded me that this morning will be different. I was full of expectations, at the same time calming myself not to over expect lest I be disappointed.
As I waited anxiously for my ride, I prayed to God that this morning would help me change something in myself. I mindlessly stroked my cat Padme's fur as she lazily snuggled on my blanket. It was 15 minutes to 8 and my ride wasn't texting me if they were on the way… "Will I go alone?", I asked myself. But then, I didn't know anybody. "How will I go?", I asked myself again. I was thinking of getting a taxi but just yesterday while waiting for one, my bag almost got snatched and I bore the scars in my arm to remind me of the incident.
A few minutes after 8, my ride texted me that they got up late and that we'll just attend the second session. I sighed in relief. I was still going! When they arrived to pick me up, I was so excited! I've been hearing so much about this... I know that I needed this.
When I arrived at the theater, I was taking in the view. People were building up at the lobby. Buyers swarmed over the tables that showcased various products. I was tempted to buy; I was on a tight budget so I decided against it. Somebody had already given me my year-round helpings of the two devotionals Companion and Didache. I'll just have to save up for the other things.
We worked our way to the side of the theater, waiting for the gates to open so we can be seated. When we finally got in, the band was already starting to practice. The stage was set-up for a celebration of the Mass. I smiled as I see the people going around and preparing for today's feast. It was sight to behold.
After the celebration of the mass, there was a Praise and Worship session. I was used to sessions like this, but never in a big crowd. My eyes gazed over the hundreds of people in the theater and I felt a surge of excitement and happiness because here, the Lord's people are rejoicing in His name. I saw people raising their hands, clapping their hands, and singing their hearts out (I was one of them!). I realized that the Spirit was truly here at this theater. People from all walks of life have gathered here for Jesus. And it brought so much joy. I forgot the last time I ever felt like this celebrating Mass. The highlight was on Jesus, and when Brother Bo came and spoke about ordinary things becoming special when done in faith, I knew I came to the right place and that I am so overwhelmed at how Jesus loves each and everyone of us present in the theater. It has been a long time since I saw Jesus in the people and it reminded me that I shouldn't forget this. Every time I celebrate Mass, I should remember that Jesus has called each person present to come and worship Him.
The
Kerygma Feast
has truly been an experience that I never would forget. I vowed to go every chance I get. It has not only made me realize that Jesus was in others... it also reminded me that Jesus was in me.
I'm grateful for the organizers, the staff, and the speakers involved in the Kerygma Feast. They have no idea how much they helped change something in me!
|
it happens pala... this paying it forward thing. the little things u do that u don't even think will have an effect later on will have an effect... john oliver emailed me to say thank you for something that i did when we were in the height of our fccs gatherings. i gave them a personality test... if they were a doer, influencer, relater, etc... and if u are, what are the things u can improve on and which u can strengthen more. he told me that he used this test in his mba presentation in up and it was the highlight of the evening. i'm grateful he sent me an email to tell me that. sometimes we get caught up in this rat race and forget to thank people... and with this, i'm thanking God... because without Him, i couldn't have possibly built the fccs and met these wonderful people.


yesterday, i was on leave again. i think i must have taken one and a half weeks leave because of this souvenir program. which means, i'm going to broke again! and the bills are really piling up too. hay. i wish i was a student, getting my allowance and just studying. being grown up isn't always fun! and to think that i so wanted to work already when i was little... but that's life i guess. u always wish u weren't living in the moment... but life teaches you that u have to live in the moment or else, it will just pass you by... back to the souvenir program... i really had mixed emotions doing it... i learned so much from the history, from the people and how people works... sometimes in a good way, sometimes bad. good because i'm grateful for people who helped me even if they aren't part of the team... like joan. last thursday, i was at quiapo from 2pm until 840pm checking the layout of the souvenir program. and after, since i had to do some more grammar checking, i went to joan's place... pinakain pa nya ako ng dinner and her bday cake. afterwards, i went home and went online to send her a file... sus, mga 140am na ata kami natapos... we chatted naman thru ym kaya at least may fruits din naman yung pagpupuyat... hay... so anyway i had to take a leave yesterday because i was really tired na. pero ayun, at least tapos na sya. Am really grateful na tapos na ang paghihirap. i learned a lot... that's what i can say. i also learned it's really hard to be on top...


yesterday was also my big brother's birthday. i had to miss practice since i promised myself that i'll be there na for my family. i've neglected them for more than 5 years already and i didn't want to neglect them anymore. sila na lang nga ang nandyan for me in good times and in bad. so i missed practice. i was also supposed to watch princess diaries with john and jaja... i really wanted to watch and hahabol sana ako kasi papahatid ako sa shoti ko after our family's dinner... pero since hindi nila sinasagot where they intend to watch and hindi nila sinasagot phone nila... i guess hindi na lang.


sometimes i feel defeated. no matter how much u want to swing things to a win-win situation, in some ways, hindi talaga kaya. at this point, i really dread going to st. peter... i know the problem's with me... i lost my patience... and i can't seem to force myself to think that they're God's people and so... i have to love them. in some ways i do naman... but i lost my ability to hang on pag kasama ko sila and when they show me the things i don't like about them... parang nagsn-snap na yung thin line and i get all affected. sabi ni jovy... i'm so kind daw kasi that i absorb things i'm not supposed to absorb... and i can't change myself for being this way... it's a curse... but it's also a gift. so at this point, parang ayoko na talaga bumalik ng st peter. the only thing that pulls me there is the youth... pero how long can i last?


today i was supposed to meet wyn for lunch at makati... so i was waiting for a taxi... eh mejo 12+ na so it was hard to get one... i was waiting like 15 minutes sa corner ng 6th street and hemady na when suddenly, ang bilis, i felt my bag being snatched... nakamotor yung two guys... buti na lang my hand was gripping the handle of the bag... so i still managed to hang on sa bag ko... nasira yung handle sa side where he tried to snatch it pero at least yun lang nasira. i went home na lang... naisip ko baka ayaw talaga ako palabasin ni Lord... so i cancelled my date with wyn. pumasok sa isip ko... talagang naghihirap na talaga ang mundo... i mean, u wouldn't just snatch someone's bag if walang dahilan diba? i forgave them na... but i have to be careful na next time... phobia na ako sa mga nakamotor na may naka-angkas. pwede kayo ipasa sa law na hindi na pwede mag-angkas? hay, wishful thinking na yun. pero even with all this happening... i thank God... at least yun lang nangyari sa akin. hindi ako nasaksak... hindi ako nabugbog... at wala pang nawala...


tomorrow i'm going to the feast ni bo sanchez. am so excited... it'll be my first time to attend. i need to have input na... wala na akong input and with all that i've heard about bo, sana i'll get inspired again. Lord... help me. ikaw na bahala.
|
it's been a crazy month. my banner month. this month, i've hit rock bottom, got all depressed, rose up... and the end of it all, i realized so many things.


change is good. while i was depressed, i felt that i didn't want to go anywhere. i didn't want to do good, create good or do anything good. i just want to stop and take my sweet time to figure things out. i knew what to do... but somehow, i allowed myself to be pulled down by this depression... i let it get to me... and i suddenly forgot how to live. i was so uncertain that i'd cry every time i'd talk about what happened to me. and so i let it be... then i remembered my la salle friends. when i was dumped by a guy who i thought back then i really loved, they were there to support me. they were the nicest people ever... they didn't stop supporting me. likewise when my dad had a stroke... i know that i am a better and stronger person because they've helped me be one. and so i sent an email asking them to pray for me... and in their own way, they supported me again. it never fails... though i know this feeling of certainty isn't forever, for the meantime, i can just count my blessings and change my perspective. i still have a hard time trusting the "happily ever after" or the "sureness" of things... but i know im slowly moving on... and after a few days of wallowing in this depression, i find myself taking baby steps to happiness. and right now, i feel better... i feel a "summer sunshine" in my heart... because i realize... God is with me all the way... and He allowed me to feel that way because i was already relying on myself too much... he sent instruments to remind me of His great love for me in the people i'd least expect it from.


and so with this philosophy, i wanted to change something. i've already cut my hair... im so stereotype... i always cut my hair when im depressed... so i can't touch that because my hair's short na... so my blog was my target... im so happy the way it turned out... though sometimes i see the background, sometimes i don't... it still looks great... and with all the improvements, from the comments to the colors to the music... i feel as if im getting there... ;)


change is defintely good...
|