during the past few years, each christmas just flew by right before my eyes. this year, i had time to reflect, time to remember all the good things in people and what Christmas is all about.

most importantly, this year, I found out who my true friends are. who stood by me and stuck by me - in my worst ever. i realized some friends are there for a season, for a reason and some are forever.

i thank God for the numerous blessings he has showered upon me... and i thank God for all the lessons i've learned. i might not have the chance to show my gratitude for all of them in this lifetime... but with God, i know i shall be singing of His praises and thanking people who has touched my life even after this worldly life.

especially, i want to thank Jovy... you know what you did for me... and for Beng... for Che... for Sr. Cora... for my choirmates... for Char... for the gift of friendships with Tsinays, Pro-life friends and FCCy...

even though there were lots of hurt, pain... they were equally large amount of blessings that overflowed... so i thank my God... and i would not want to change a single detail of this year because i know i will become stronger. and i owe it to God's infinite love and mercy.
|
christmas party of my la salle barkada at iris' home... tama ba yan, kirk, kunan ako off guard! ;) dibale, nanalo naman tayo sa game!!! ;)

|
|
last monday, jc was confined to the hospital to undergo blood transfusion after the doctor saw the ultrasound and blood test results. we weren't informed about the gravity of the situation... we somehow knew about it already for the past weeks or so. and so yesterday when the doctor visited, we somehow knew what it was about. jc has something wrong with his liver. the doctor ruled out biliary atresia because he has a gland that is connected to the liver. the biliary atresia is without it. but he has something about hepatitis in his liver. what's dangerous is he went on with this untreated for six months, whereby that would entail him to undergo liver transplant, that's not even available here in the philippines. so when dr. guno showed jc's results, she told us it was slow and another transfusion is needed. we need to have his liver something normalized to 12 but at that point, the difference is about 9 even after the first blood transfusion. after that, my sister in law moi and my brother andy kind of broke down. we all comforted each other and prayed the rosary... for the first time, i heard my brother utter those prayers he kept to himself. i texted friends to pray... and i'm glad that they did because today, it normalized already. jc can go home na. and next year, jc will undergo liver biopsy so the doctors can know what the real problem is so we can give him the healing he needs. The battle isn't over yet... but with prayers, and with our faith in God... i know somehow, it will.
|
yesterday, i went to my old office in binondo. i had lunch with a great friend... joy lim. she used to be my marketing manager when i was there. she really was a confidante, someone i could relate to. and it felt good to catch up! ;) after, i went on my usual rounds of greeting my friends there. i met up with tessie, ms carol, ana, then on to juvvy and vange in la gear. I got stuck there doing vange's blog. then i went to see rhoda. before i left, i saw ruby and techie and clytie. Kakatuwa. There was one thing though... i met sir johnny and i felt uncomfortable talking about my new work kasi it's a competitor no matter how u see it.

After, i went to 168 Shopping Mall... mga goodies from china at a low rate. I bought blouses for my sisters, then a chopping board from my mom. ;) then i wanted to shop for more stuff pero something held me back.

I went to the accupressure doctor afterwards to reserve a slot for JC and my grandparents. Natraffic yung brother ko so i just waited. Buti na lang, claire texted me so mejo may kausap na ako. When they finally came and had their accupressure, we went to wai ying to eat.

on the way home, my brother mentioned if i wanted to be in celine air express, business of his friend meng. he said it entailed traveling to taiwan, to china, etc... and to act as her assistant. napaisip ko... kasi with this, i won't be damaging any contacts. with elle, i would be. natorn tuloy ako... i'm still thinking and praying about it...

when we got home, my brother asked me if i also wanted to go to tutuban for their midnight sale. i ate so much a wai ying so i agreed to come.

Buti na lang cause now i know why i was held back at 168, mas mura pala merchandise here! Was able to buy some gifts na. Hindi pa tapos pero at least, may kalahati na. ;)

Today, right now, am at Pro-life office, blogging... i also had a recollection today. il write about it next time. ;)
|
while on free trial of Bayantel's DSL, i usually listened to yahoo's radio or window media player's radio... and when i chose Gospel Holiday, i was able to listen to Newsong's wonderful song : The Christmas Shoes...

Newsong
The Christmas Shoes

It was almost Christmas time, there I stood in another line
Tryin' to buy that last gift or two, not really in the Christmas mood
Standing right in front of me was a little boy waiting anxiously
Pacing 'round like little boys do
And in his hands he held a pair of shoes

His clothes were worn and old, he was dirty from head to toe
And when it came his time to pay
I couldn't believe what I heard him say

Chorus:
Sir, I want to buy these shoes for my Mama, please
It's Christmas Eve and these shoes are just her size
Could you hurry, sir, Daddy says there's not much time
You see she's been sick for quite a while
And I know these shoes would make her smile
And I want her to look beautiful if Mama meets Jesus tonight

He counted pennies for what seemed like years
Then the cashier said, "Son, there's not enough here"
He searched his pockets frantically
Then he turned and he looked at me
He said Mama made Christmas good at our house
Though most years she just did without
Tell me Sir, what am I going to do,
Somehow I've got to buy her these Christmas shoes

So I laid the money down, I just had to help him out
I'll never forget the look on his face when he said
Mama's gonna look so great

Sir, I want to buy these shoes for my Mama, please
It's Christmas Eve and these shoes are just her size
Could you hurry, sir, Daddy says there's not much time
You see she's been sick for quite a while
And I know these shoes would make her smile
And I want her to look beautiful if Mama meets Jesus tonight

Bridge:
I knew I'd caught a glimpse of heaven's love
As he thanked me and ran out
I knew that God had sent that little boy
To remind me just what Christmas is all about

Repeat Chorus

... ang ganda ng music... nakakaiyak... i also discovered Pont of Grace and their song Emmanuel God With Us/ O Come Emmanuel is nice too...

This Christmas, I find myself getting xcited over little things. I am happy inside... and with my family at my side who stood by my all these years, my friends who stayed with me and beared with me (you guys know who you are) throughout my ups and downs, thank you...
|
it sure was a busy week!

Monday night, Jovy and I planned to go swimming with Archie at Columbian. Archie couldn't make it sa swimming so Jovy and I went by ourselves. At first, muntik na kami hindi matuloy kasi there was no parking! Buti na lang when we went back to the bigger parking lot, we found one... pero it was like 20 minutes of searching. Anyway, Jovy pala is a serious swimmer! Grabe, nalaos talaga ako ;) With her 15 or 16 laps, I was only able to do 5, and i stopped because my arm cramped. After that, we caught up with Char and Benj sa ALda's for pizza and coffee... and Archie soon came... after his flat tire experience... poor guy. At least he was going to Lucena to take a break... segue, i can't wait next year for my break to iloilo... hay. Anyway, it was really nice to catch up with them... sana Char makes it sa boards! I'm sure she will naman! Tapos overnight session na naman with Jovy... zzzz

Tuesday, bangag when I came to the office. Complained sa Bayantel DSL because there wasn't any connection. so they granted us three more days free.

Wednesday, Jasper (brother of Che) texted me if pwede daw ako to meet them. Since I was available, I said yes. So we went to Chili's... super busog... and talked about their wedding plans. They asked me to help them way before... and since Jas was Che's brother and i treat che as my sister, i'm more than willing to help naman. We hang out til 11 talking about the wedding...

Thursday, I called up Che, birthday nya and since she lives in the States, I called on the day of her birthday. Kakamiss talaga.

Today... last day ko na sa office! I never thought I'd really miss the place kasi i'll be back from time to time naman... but when I was about to leave and was giving my "pamana stuff" to people... muntik na ako maiyak. We ate at Country Style at Ali Mall after work... hay, i'll really miss them. I really learned a lot from them and I'm really grateful for all the time, friendship, company, laughter and tears I've shared with them. I know we'll keep in touch naman... i'll actually see them on the 14th din for Pro-life's recollection... i guess it won't be the same anymore kasi...

I also talked with vange on the phone today... nakakatuwa pa rin sya as ever... and she made me realize a lot of things din about friendship, about life... and I'm really grateful she's around... kahit tampo ako that she's not going to boracay!

I changed my blog holiday style... I think I've found a hobby na of doing this... natutuwa ako when I change templates so I think I really won't stick with just one... I'll keep on changing and changing... so kind of like me...
|
Lord, please take care of Jerrel Chadler... may you embrace him and send him angels to watch over him. Thank you...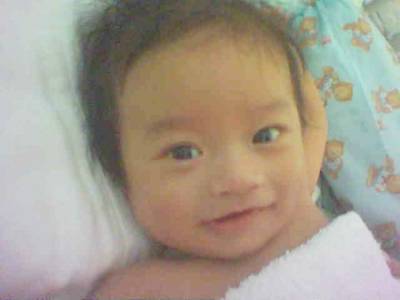 |
am really so glad jovy's back. we went out to eat with archie last friday at tempura. haay, kakamiss ang company. then when archie got us home - meaning jovy's place, kwentuhan galore. i really am glad she's there... there are so many stories, so much to catch up on... and kahit papano, still bitin. but that night flooded memories and so much warmh and being there for each other. i feel so blessed.

today i went to malolos to visit the barasoain church. i made wishes and prayed for it to come true... Lord, ikaw na talaga bahala.
|