been a long time since my last serious post! i recently finished the first responder's training. i have a hard time explaining what it is to my friends, so better check out
http://www.fepag.org.ph
and see for yourself. it was really hard! for someone who does not have any medical background and any confidence in life-saving, it was really a tough course! but i'm glad it's done... my sis and i passed the course! the last day was like an extra challenge activity. we had six rounds of cases and we were graded as a group and as an individual. it was fun but it was really hard!!! anyway, the thing is, we passed and it was super worth it!!!
this friday, we'll be attending the fepag meeting. my sis and i will be joining. brought along elma to the BLS-CPR training at Infant Jesus last Saturday... and because of Sir Wilky's testimonials about the group, she's joining as well! :) Blessing talaga.
another victory is that elma and my sis are beginning to find deeper meaning and fulfillment. am just glad that we all have a bonding now because of fepag... and because the Lord allowed us to.
Sana i can grow more... i don't want to "use" my new skills... but at least, if there's a emergency, i know now what to do - in those situations i learned. :)
Next week, i'll be back in St. Peter... fish for more people this time.
it's really nice that both my affiliations are both "saving" in nature.
need saving anyone? :) --> both literally and figuratively? :)
|
Reminiscing... this was a picture taken during the first FCCY Youth Camp in 2004. the picture was an activity called "Candle of Love". Here we expressed our love as we passed the candle around, reminding ourselves how loved we are by God by using instruments. In this picture, I handed my "love" to Sr. Cora, a Franciscan Nun who I met in Pro-life and whom I'm very very close with. This is probably one of my best pictures with her.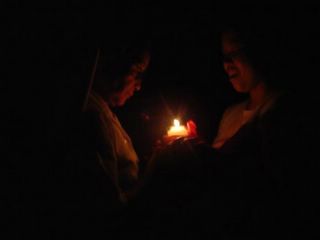 |
MDS2 and his girls :) our managing director with the girls in the office (L-R) Joni, Me, Elma, MDS2, Joie, Dabbie (in white), Arlene S. and Clarice in pink. Taken in E-lanes last Friday for our bowling tournament. Scored 120!

|
this was taken in joanna's lovely home right after that yummy breakfast in kwun tong, hong kong. don't i look cold? because it was sooo cold there last Feb! (L-R) Me, Yoyo, Joanna, Offie and Joanna's sister (in glasses).

|
|
every summer since 2004 tagged the "arlene's camp", fccy st peter chapter summer activities now included the youth camp. after '04, it was all about miracles and bebs handled this camp. This year, it was Joan. it feels great to know that what u started has now become a yearly tradition.

this year, it was all about LOVE, taking on Pope Benedict's encyclical entitled "Deus Caritas Est", which simply means God is love.

in a nutshell, one of the best youth camps i ever had! though the planning could've been better, this was one of the most enriching youth camps i've been into. i also had so many blessings with this camp. i was supposed to have an LCD projected, but instead, i got three laptops with amazing views. (Large, widescreen ones). i also had a slide of the three o'clock prayer and it was so providential that it was shown at exactly three o'clock in my watch! :) i also received three flowerettes from God after my conversation with him before my module. we also experienced a great praise and worship! it was my first time to see the Holy Spirit slain a person who was receptive to Him. it made the experience all the more meaningful. omar also shared a talk, and it was so touching to see Him up there talking. i remember before it was so hard for him to open up. but it's just so amazing that because of the Lord, you would leave your "status quo" and benot afraid to proclaim!

so even though i was so stressed before the camp, the actual camp was really worth it. Omar texted me the other day and said that the youth camp was bitin... and yeah, indeed it was. :)
|